Kia|the evolution of a car brand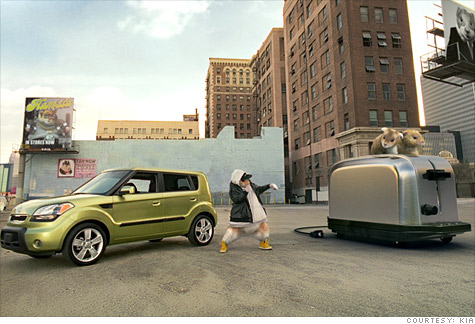 You may know Kia for its hip-hop hamsters, but over the past few years the Korean-based automaker has been making a name for itself that goes beyond its quirky advertising strategy.
Combining an eye for design and a clever way to market it, Kia has become one of the fastest-growing car companies in America. One could say that the skepticism over Kia's quality and reliability from its early days has all but disappeared – more and more of these 'funky yet functional' vehicles are hitting the road.
Kia at the forefront
Between 2009 and 2011, Kia launched more new vehicles in the U.S. than any other car manufacturer. Could it have been the economic downturn that propelled the Korean automaker into the limelight? During a time when other auto executives were pulling their companies up by the bootstraps, Kia stayed the course.
The culmination of Kia's price point, marketing savvy and focus on design has led to increased consumer confidence in their products and higher brand awareness overall. Last year, the company passed an all-time best with more than 485,000 units sold in America.
"We've infused European styling," said Scott McKee, Public Relations Director for Kia, in an interview earlier this year. "Customers tend to buy with their eyes first."
Advertising acumen
Kia's first Super Bowl commercial in 2010 established the company as a fun-loving brand, giving the company an identity separate of its sibling, Hyundai. Kia had officially become its own brand with its own personality. Since that time, we have seen an onslaught of creativity from Kia, including those happenin' hamsters.
McKee acknowledged that Kia is a brand that doesn't take itself too seriously. "We embrace knowing we're different," he said. "[But] we haven't walked away from value."
Brand alignment
Kia's growing investment into manufacturing plants and jobs here in the U.S. are part of their brand evolution.  The company launched its first stateside plant in Georgia just three years ago, adding 2,500 much-needed direct jobs.
The Korean automaker is now working to further align itself with youthful music and sports fans, participating and sponsoring in events that it believes will position the company directly in front of potential buyers. The brand is also showing early success in racing, embarking on its rookie year in the World Challenge Series.
What's next for Kia?
Don't expect to see Kia jumping into NASCAR just yet. "It'd be nice," McKee commented. "[Y]ou've got to have a lot of cash to get involved there. We're taking it one step at a time."
Despite a slow in global sales during the second quarter of 2012, Kia remains on the growth path.
Beyond the product, McKee tells us that Kia will be further developing its Corporate Social Responsibility (CSR) plans. Earlier this year, the company teamed up with LPGA golfer Michelle Wie to donate $50,000 to Operation Hero, a military charity in Southern California.
Also, another exciting auto show season is just around the corner. We already know we'll see a refreshed Sorento. Despite a brief hamster hiatus, the little critters are back in Kia's advertising lineup for the 2013 Soul. And rumor has it sporty and convertible versions of this Kia fan favorite may be coming our way.
Reader feedback…
Tell me in the comments: What do you think is the most interesting aspect of Kia's rise to mainstream automotive world? Have you enjoyed watching this car brand transform over the last decade? What do you think will be the next big move for Kia?